GET TO KNOW MICHAEL & HEATHER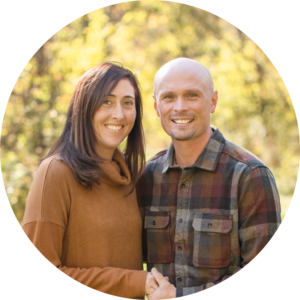 Hi, we're Michael & Heather Dubbels.  You probably figured that out by now.  We have been married for over thirteen years and have three beautiful kids.  Our priorities in life are faith, family and friends. Nothing is more important to us than having a personal relationship with God through Jesus Christ. Over the last twenty-five years, Michael has been involved in church ministry throughout Indiana and Missouri.  He has also had the privilege to serve in the Dominican Republic, Russia, Mexico, the inner city of St. Louis, India, Kenya, and Uganda. Michael has a B.A. in Biblical Studies from Central Bible College.  Heather is from Defiance, Ohio and has her B.A. in Spanish and M.A. in Applied Linguistics from Ohio University.  She has studied, served, or taught in Chile, Ecuador, Spain, Turkey and Azerbaijan.
We reside in Kokomo, Indiana. Michael manages the family business operating around 125 apartments and a 146 acre farm. Heather is a Spanish teacher at Northwestern High School!
PAST EXPERIENCE
MICHAEL'S BACKGROUND (1994-2023)
---
Michael's childhood and teenage years were spent in Indiana, with his parents Ronald and Shelia Dubbels, who served in pastoral ministry for 25 years and developed a few businesses. At the age of 17, Michael began speaking in various churches throughout Indiana, being President of Fellowship of Christian Athletes in his high school, and participating in mission trips, which prepared him for entering the ministry.
---

Upon graduation from high school, his parents, sister and Michael had the opportunity to spend one year in Moscow, Russia as interim pastors at the International Christian Assembly. During this time, Michael had the opportunity to work with youth and college students. He was able to start a Russian youth ministry and was also able to start and develop seven small groups at three universities.
---

Upon his return to the United States, Michael completed his Bachelor of Arts in Biblical Studies at Central Bible College in Springfield, Missouri. Over the course of these four years, he actively participated in a mission trip to Mexico, summer internships in Indiana, led two different traveling ministry teams during the academic year, and spent four months in Russia working with church planting and development.
---

Between 2001-2005, Michael moved to St. Louis, Missouri with a focus on urban missions. He was active in preaching in various churches, teaching courses in the Urban Bible Training Center, and leading various small groups and outreaches. In the spring of 2005, he was an interim minister at New Life Community Church in Ballwin, Missouri. In April of that same year, Michael had the opportunity to spend three weeks in India visiting various missionaries and ministries.
---

From 2005 to the end of 2008, Michael served as an associate pastor at Crossroads Community Church in Kokomo, Indiana. Crossroads is a 2,000 plus member non-denominational church. During the three year period he served, he had a growing list of responsibilities including working with new believers; implementing a church management system; facilitating the administration of the small group ministry; developing a discipleship class process; leading the college/twenty-something ministry; assisting in the development of church websites; organizing several large events including a concert, a festival, and a conference; assisting in assimilation, first impressions, and capital campaign teams; teaching at the college/20s weekly gathering, adult classes, and membership class. He continued his personal growth and development by attending the Jack Hayford's Leadership Conference 2005, Granger Community Church's Wired Church Workshops 2006-2007, New Life Church's Group Life Conference 2006, Willow Creek's Leadership Summit 2005-2008, and Saddleback's Group Life Conference 2008.
---
In 2009, Michael hit pause on ministry to establish a relationship with Heather. They met in January and were married in July. They moved to Carmel, Indiana as Michael worked for his brother Mark, who owned US Lawns of Hamilton County, a growing company in the North Indianapolis area. Heather is a licensed Spanish teacher and taught at Noblesville High School and Zionsville High School.
---
In 2010, Michael assumed leadership as pastor at River of Life in Lebanon, Indiana, a revitalization church. He worked with developing an advisory board, volunteers, core group and congregation that reached out to several hundred people over six years. They remodeled and relocated to larger facilities, sold two properties, and prepared the church for a bright future. Not only did they see a healthy congregation grow and develop, they had the opportunity to start a new Christian music festival in the area drawing over 5,500 people over a three year period. During this time, Michael served on the advisory boards for the Witham Family YMCA and Indiana Teen Challenge. He continued his personal growth by attending Willow Creek's Leadership Summits, C2C Family of Churches Prophetic Conferences, YMCA Philanthropy University workshops, and the Church Life Cohorts. On December 6, 2010, their first baby girl, Alaina Noelle, was born. On May 14, 2012, their second baby girl, Lydia Nicole, was born. On April 18, 2014, their son, Ezra Michael was born.
---

In 2016, their family transitioned back to Kokomo, Indiana. Michael operates the family business managing 115 apartments and a 140 acre farm. Heather taught high school Spanish at Western High School from 2015 to 2017 and is now at Northwestern High School. In 2018, Michael served on the teaching team and Heather led the children's ministry at Oakbrook Church – Flora campus. In 2019, Michael and his father built another 8 unit apartment building and Michael & Heather picked up another 6 acre property with a house on it. In 2020, they remodeled the house, restructured the businesses, started Affordable Living Property Management, and navigated through the Covid-19 crisis. In 2021, Michael joined the ministry team at Northview Church – Kokomo campus as a Ministry Associate. He overseas the Group ministry and implemented the Next Experience, which is an all-church assimilation process. At the end of 2021, Michael traveled to Kenya, West Africa for nearly two weeks speaking at a men's conference and visiting rural churches in Central Kenya. In the summer of 2022, Michael had the opportunity to travel to northern Uganda with a small team from Northview Church for 10 days to assist in the ministry of Bright Hope International. The latter part of 2022, Michael led two Real-Life Discipleship Cohorts with 25 participants, attended the National Discipleship Conference in Nashville, and attended the Northview Men's Discipleship Walk.